Altoura 360
The AI-powered learning platform for industrial frontlines
The world's leading companies power their learning initiatives with Altoura 360. Join them and harness the power of AI to automate content creation, deliver learning content on-demand, and accelerate competency attainment across your frontline teams.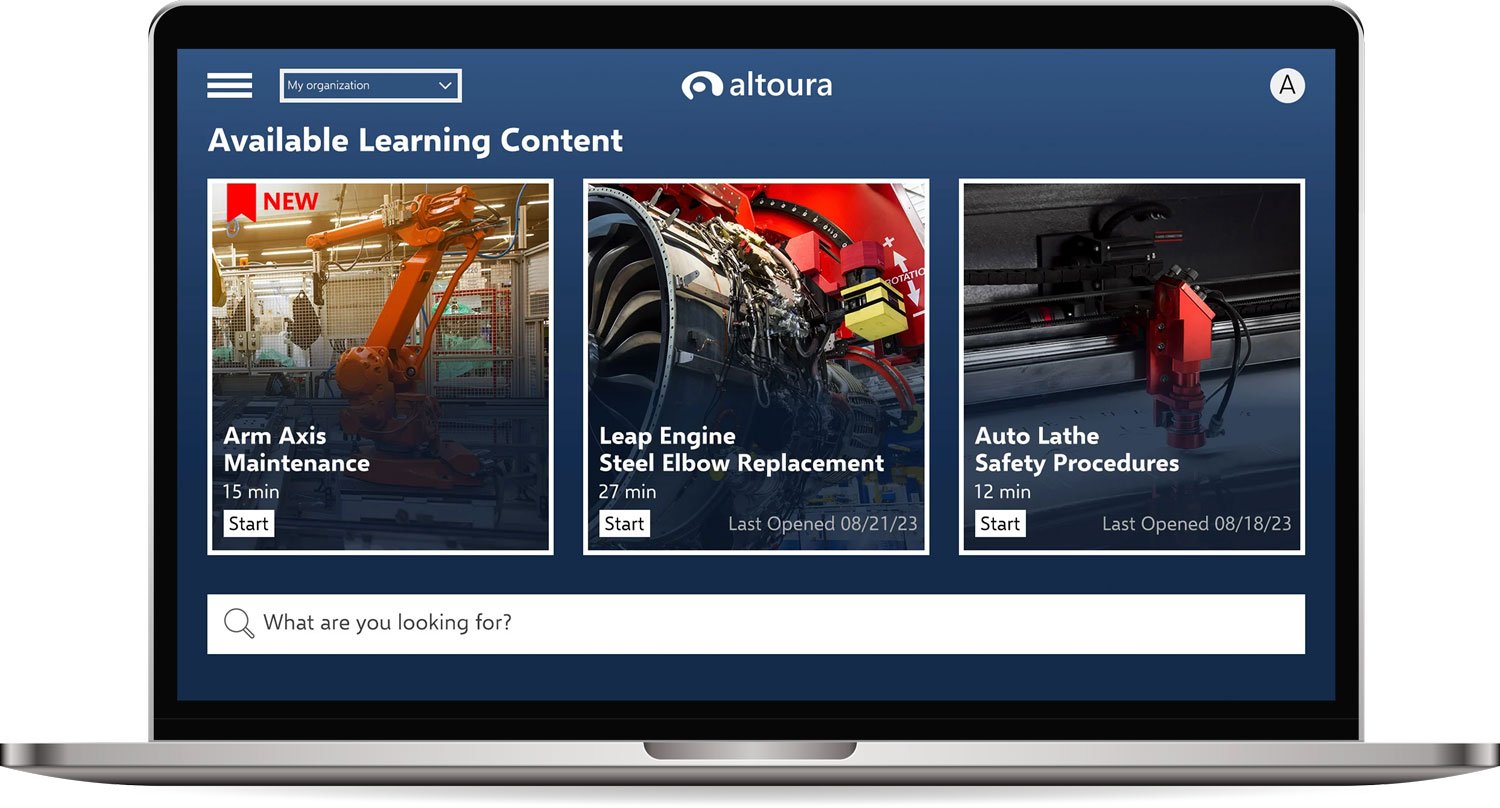 One platform.
For creators and learners.
Altoura 360 includes powerful, easy-to-use, AI-powered tools for creators and learners. Legacy LMS and training platforms were never built with frontline workers in mind. Altoura 360 combines the power of an LMS, training, and AI platform into a single, cost-effective learning solution designed specifically to improve industrial frontline workers' skills and productivity.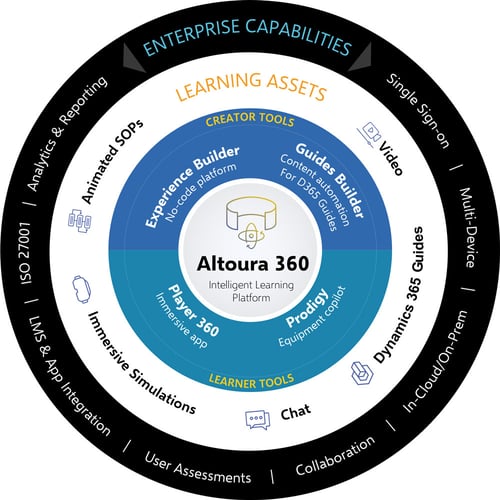 Altoura 360 creator applications
Automate it. Edit it. Publish it.
Experience Builder
Build learning experiences with a no-code tool
Import 3D models and text-based SOPs and build interactive training experiences without coding experience—and without needing a Unity license
Use drag-and-drop nodes to design workflows and create step-by-step instructions
Build powerful simulations and animations
Create branching with decision trees
Make and publish in-app changes on-the-fly
Guides Builder
Automate creation of Dynamics 365 guides
Are you using Microsoft Dynamics 365 Guides to provide AR assistance to frontline workers? If so, Guides Builder is an indispensable application to maximize the value of your investment. By leveraging capabilities of Azure OpenAI, Guides Builder solves the two biggest drawbacks creators face when using Dynamics 365 Guides: the slow authoring process, and the lack of remote authoring capabilities. Now you can automate the creation of guides at scale, from any location, and eliminate the need to be physically in front of equipment or machines when developing a guide.
UPLOAD SOPs INTO ALTOURA
Upload PDFs and other product documentation into Altoura's large language model built on Azure OpenAI Service
AUTOMATE CREATION OF GUIDES
Altoura analyzes and then uses AI to extract the SOP processes and tasks and generate guides


EXPORT TO DYNAMICS 365 GUIDES
Import newly generated guides into Altoura Dynamics to enable AR assistance


REMOTELY AUTHOR NEW GUIDES
Simplify guides development by authoring in Altoura 360's virtual environment from any location

The combination of Altoura and Dynamics 365 Guides makes it easy for us to build immersive training solutions for our clients that have a critical need to upskill remote workers and assist them once they are deployed on the front lines.
Matt Fedorovich
Immersive Technology Lead, Insight
Altoura 360 learner applications
See it. Learn it. Do it.
Prodigy
Deploy a copilot for frontline workers
Prodigy is an intelligent assistant and chatbot that discovers and aggregates product information and SOP content from across your company. Once you've trained Prodigy on your equipment manuals and SOPs, it can assist your frontline workers by providing text-based answers to chat requests, and automating video simulations and immersive content to train frontlines on procedures.

AI-powered
Built on Azure OpenAI Services, Prodigy learns from users' behavior and preferences and provides improved recommendations and guidance the more it's used.

Easy to use
Frontline workers can use natural language from any device to ask questions or solicit insights about their equipment, machines, and environment.

Self-service
Frontline workers can learn and troubleshoot in real time to become proficient faster by reducing the need for human intervention to answer commonly asked questions.
On-demand SOPs
Prodigy transforms standard SOPs into visual interactive guides, empowering frontline workers to build competencies faster and get more work done, more accurately, on-demand.
Player 360
Immersive learning application
Player is the learner-facing application to access Altoura's immersive learning environment. Learners use Player to interact virtually with their equipment and environment as they practice standard operating procedures in an industrial metaverse before stepping on the front lines.

Any device, any location
Player runs on iOS & Android devices (mobile, tablet), PC, and AR and VR headsets—and with an Internet connection, learners access learning content from any location.

Dynamic content
Learners follow step-by-step instructions augmented with 3D objects, videos, photos, digital documents, and real-time IoT sensor data.

High-fidelity
Learners interact and train with high-fidelity simulations to develop competencies in a safe, virtual environment before they show up on the front lines.

Multi-user
Multiple learners can collaborate in immersive learning experiences, enabling more senior instructors to demonstrate and guide new hires through SOPs.
Enterprise capabilities
A flexible and scalable learning infrastructure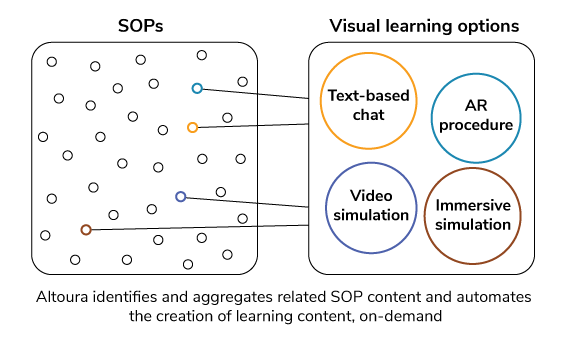 Generative AI
Automate creating and learning
Altoura's use of a Large Language Model (LLM) and Generative AI chat generator (built on Azure Open AI) empowers both creators and users to work faster and smarter. Creators can automate the development of visual learning content, and learners can interact with their equipment and environment through a chat interface to troubleshoot and operate complex machinery—and to discover all the learning content available for specific SOPs.
Learning assessments
Evaluate learner progress towards competencies
Altoura's Assessment Mode requires learners to complete tasks without any assistance (immersive guides or animated instructions) so instructors can measure learner skills and track progress towards competencies.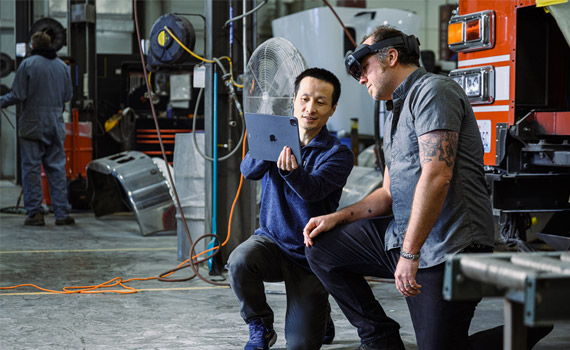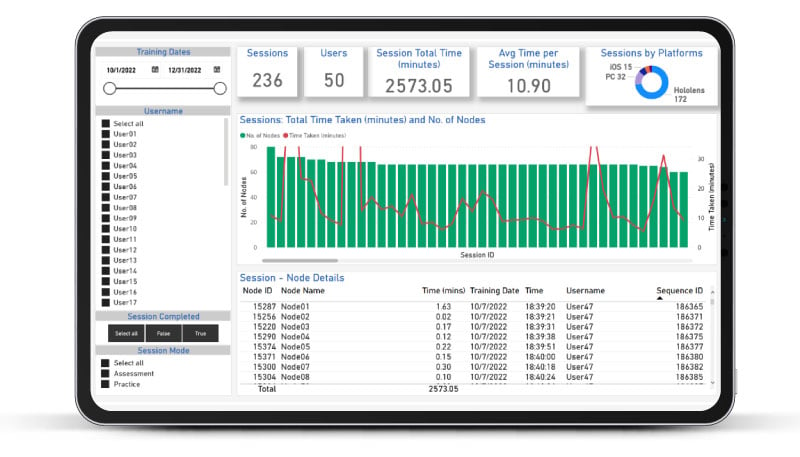 Data analytics
Measure business impact of learning initiatives
Altoura 360 makes it easy to evaluate the quality and effectiveness of learning experiences. Every chat, automated guide, and immersive experience is recorded as a session, and you can access detailed information about these sessions and the learners. For example, the report shown here shows how many sessions were run by the learners for the selected period of time, the total time taken to run all the sessions, the average time per session and the platforms they were run on. Details about individual sessions, in terms of steps that were completed, and the time taken, are also available.
LMS & application integration
Get more from your learning data with integrations to the world's leading HR systems
Altoura 360 delivers learning content in multiple formats and can integrate with popular HR, LMS and SOP systems via xAPI to push data insights or ingest content. The platform collects data about the wide range of experiences a person has within online and offline training activities. xAPI's use of a shared format for both receiving and sending data makes xAPI an ideal API for sharing learning between multiple systems.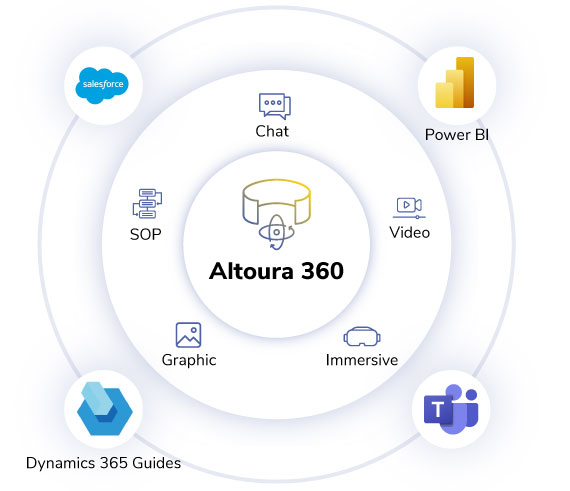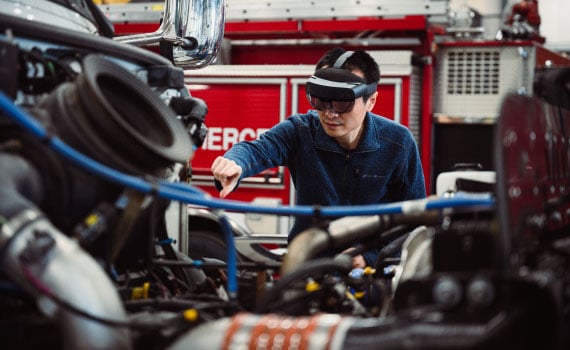 Enterprise networking & security
Deploy learning solutions with confidence
Altoura 360 runs on Azure and has built-in security in every layer. It is used by the world's largest companies to build and deploy global learning solutions to frontlines.

Single sign-on (SSO)
Altoura provides a single sign-on solution that uses authentication protocol SAML for exchanging authentication data. Read blog >

Built on Azure
Altoura is built on an Azure-based cloud infrastructure that provides enterprise-grade authentication, security and manageability.

ISO 27001 certified
Our ISO certification assures customers that data is private and secure with industry best practices.

Data encryption
Encryption at rest and in-transit ensures high levels of data security and privacy.
Multi-device
Build once, run anywhere
Altoura 360 lets you deploy learning experiences to your device of choice.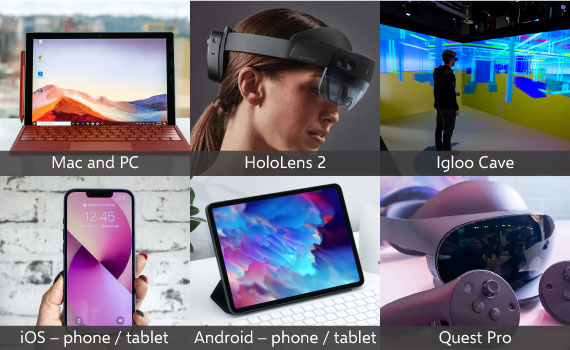 What's included with Altoura 360?
In addition to the platform and products, you'll get creator tools and resources you need to build a world-class learning program for your frontlines. It includes:

The world's best brands rely on Altoura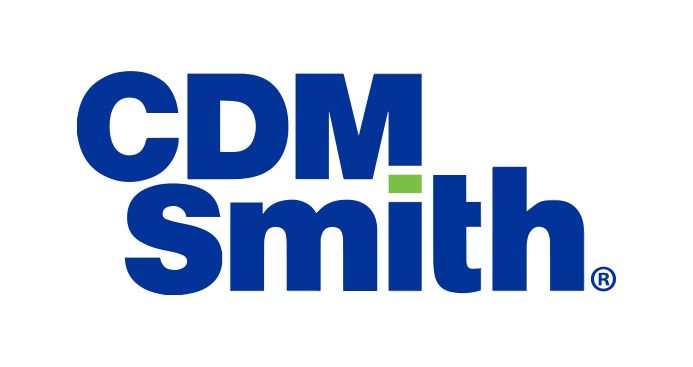 Get started with your personalized demo
Complete the form to get in touch with our sales team to see Altoura in action. We'll show you how you can use Altoura to improve productivity, engage workers, and lower costs across your organization.