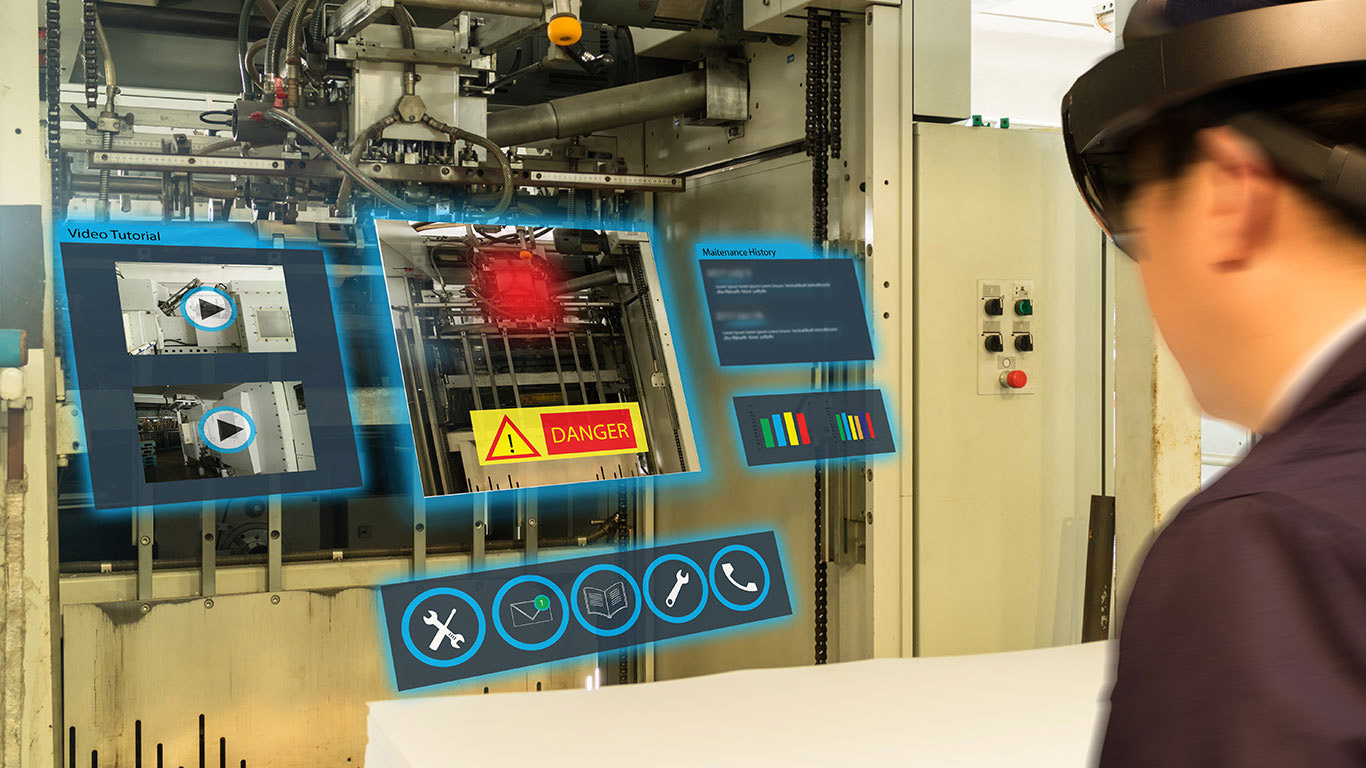 Altoura's interactive simulations for common industrial procedures reduce learning times, improve safety results, and increase operating efficiencies.
Frontline worker safety training is going through rapid digital transformation. With an aging workforce and a new generation of frontline workers that require safety training, many industrial companies (in manufacturing, transportation, agriculture, electronics, mining, etc.) need to capture and redistribute institutional knowledge, digitize training for compliance and liability protections, and use a more engaging and cost-effective method to onboard, train, and retain employees.

Some of the common safety trainings that industrial companies need to customize for their specific environments, layouts, and processes include:




Since the pandemic, immersive training (primarily using AR/VR headsets) has become the killer app for worker safety training because it eliminates real-world risk by enabling frontline workers to complete virtual tasks and operate virtual equipment in a totally simulated, highly realistic environment. Simulated learning in a virtual environment is especially important in industries where workers need to perform complex procedures around hazardous materials and machinery.
The Serious Problems with Traditional Safety Training
Traditional learning modalities like instructor-led training, mentoring, and e-learning have serious shortcomings in addressing worker safety training:
Costly and risky—Traditional workplace safety training requires extensive human capital and often requires taking the most skilled workers off the production line to mentor a new employee as part of a training process. In addition, training on physical machines takes a productive asset offline instead of contributing to business results. In addition, training new employees on the front lines before they get hands-on experience (in a virtual setting) is inherently risky and prone to accidents.
Inconsistent learning experience and outcomes—Instructor-led and classroom-based learning is heavily dependent on the expertise and training skills of the facilitator. Different facilitators delivering the same content produce different results, so employees do not receive a uniformly effective experience. The lack of equal and adequate opportunities negatively impacts employee retention and productivity.
Low engagement—Traditional training is low tech and one-to-many, with little opportunity for personalization or self-service. Even computer-based training and videos tend to lack objective, actionable feedback for learners on potential, performance, and progress. In addition, traditional training relies heavily on physical presence and fails to accommodate anytime, anywhere training needs of the modern worker.
The Rise of Immersive Training for Worker Safety & Compliance
In today's heavily regulated industrial environments, companies must demonstrate compliance with federal and local safety regulations—such as OSHA requirements in the United States—and provide adequate training for frontline workers. Learning & Development (L&D) and Engineering Quality/Safety teams are quickly replacing legacy instructor-led training and e-learning with immersive training to digitize and simplify compliance needs—and to codify a training methodology that can scale to meet the onboarding needs of new workers.

The PwC 2022 US Metaverse Survey found that 51% of companies have integrated immersive technologies into their business strategy—and the single largest driver of adoption is worker onboarding and training.

There are quantifiable data and outcomes that make immersive training a strong economic and transformational investment for industrials:
Improved safety—Frontline workers train virtually, away from dangerous environments, materials, chemicals, machines, and tools. Workers train in a virtual environment, with virtual machinery and virtual tools, which enables them build muscle memory before deploying to the physical front lines—and to train without the fear or risk of injury or impact to production.

Spotlight: Microsoft and Altoura customer data indicate that immersive training reduces injuries and accidents by as much as 50%.

Reduced costs—Training virtually means less waste, less travel, and less capital needed, and lower overhead costs.

Spotlight: A Fortune 500 tire manufacturer used Altoura to reduce the number of tires wasted in training by 93% in the first year of deployment.

Increased productivity and efficiency—Immersive training enables companies to keep their most productive workers working and their production machines running rather than taking them offline for training purposes. As a result, training cycle times are shorter and frontline workers are more productive on day one, leading to a typical 10x ROI.

Spotlight: A Fortune 500 pharmaceuticals manufacturer used Altoura to reduce worker training times by over 60% and found the time required for re-training extended by 90% compared to instructor-led training.

Stronger employee engagement—Compelling experiences, modern technology, and self-paced learning from any location at any time are just what the next generation of workers expect.

Spotlight: A PwC study concluded that workers that are 275% more confident to apply skills learned after immersive training, and 3.75x more emotionally connected to content than classroom learners.
The Power of Using Altoura to Create Immersive Simulations for Worker Safety Training
Many leading industrials use Altoura to deliver immersive learning programs for specific worker safety training workflows (such as Lockout/Tagout, Confined Spaces, First Aid, etc.), and capture data that provides Insight into training data at all levels and confirms which workers successfully complete various trainings.
Altoura's platform has three modules that put the power of immersive training in the hands of L&D teams, Engineering Quality/Safety teams, or any subject matter experts that want to author safety training modules, no coding required.
The Altoura Platform: Three Modules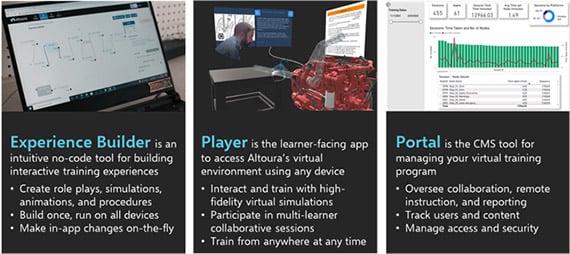 Unique benefits of using Altoura for worker safety training include:
High-fidelity virtual environment—Altoura makes it easy to import 3D models of spaces, buildings, machines, tools, etc. and optimize those 3D models to create a photorealistic virtual environment for training.



This digital twin enables workers to navigate, perform tasks, and improve performance—and make mistakes—within an environment that has high-fidelity to their physical workspace, but without the risk of injury or negative business impact. By the time they deploy to the front lines, they are already skilled at their job because they've trained virtually in the digital twin.


Powerful simulations and node-based learning instructions—Altoura's no-code Experience Builder makes it easy to create powerful simulations and virtual step-by-step training instruction guides without having to engage developers or courseware designers.



Creators can use Experience Builder to build animations, generate simulations, and require users to perform specific actions, such as turn a dial a specific number of degrees, lift a lever, flip a switch, or move an item to a specific location.



In the context of safety training, this flexibility gives creators a lot of flexibility to test various training paths and optimize them to ensure workers are engaged and able to complete the training tasks as expected safely and competently prior to being deployed to the front lines.

For example, after building a digital twin in Altoura, a creator could design a customized Lockout/Tagout (LOTO) training that looks familiar to workers. The workers will use Altoura's Player to conduct the training and learn the procedures. They will learn what kind of maintenance requires LOTO procedures, how to prepare a work area for shutdown, isolate, lockout, and de-energize all power sources, and verify that the equipment is fully shutdown and non-operational. Then restore the machine back to working order.




Assessment mode—Altoura's Assessment Mode enables trainees to progress through a training without prompts and without any visible instructional training guides so they can evaluate their skills and knowledge retention. Most creators rely on Assessment Mode by ending a training module with an assessment where the trainee will perform safety procedures in a simulated (and animated) critical situation scenario to prepare workers for workplace emergencies.


Measurement and analysis—Altoura's Portal enables managers to analyze user activity and training module statistics. Altoura tracks training progress at every stage—from headset upload through to completion. Program administrators will be able to see how users are doing with the content, time in training, scores from training assessments, and success rates. This data enables teams to estimate and plan completion rates for future cohorts. This information can be seen by user, group, organization, or across all your programs. And integration with Power Apps enables integration of ML services to help identify patterns and generate new insights.


Scalable methodology—Unlike many immersive training vendors, Altoura is not a consulting-led platform but a SaaS platform. Our team is committed to empowering our customers to onboard and ultimately own their training curriculum and processes by building their own unique experiences tailored to their unique workflows. Altoura's world class professional services team, Altoura Studios, is available to assist customers at every stage of the immersive training journey if they want or need assistance building 3D content, creating simulations, developing instructional training guides, or supporting change management plans.




Train-to-Work—Altoura is the only platform on the market that enables an end-to-end training workflow from virtual to physical environments. With Altoura, workers can train virtually before they deploy to the front lines, then receive augmented (AR) task assistance in their physical environment.
It's Easy to Get Started
For industrial companies, immersive training is a cost-effective, customizable, and engaging worker enablement strategy to make sure employees are highly skilled and fluent in critical safety procedures. The Altoura platform makes it easy to build highly realistic virtual environments (digital twins), robust simulations, and step-by-step guides that can be completed before the worker steps on the front lines. And Altoura's Portal enables learning managers to manage access and track performance of training results. Immersive training technology is being rapidly adopted by the most successful and innovative companies in the world, and it is expected that it will be become a standard in industrial industries, with a huge potential to improve the overall safety and productivity in the field.
Let us know how we can help you with your training needs by contacting us at info@altoura.com.
Author
JOHN THOMAS
Director of Professional Services