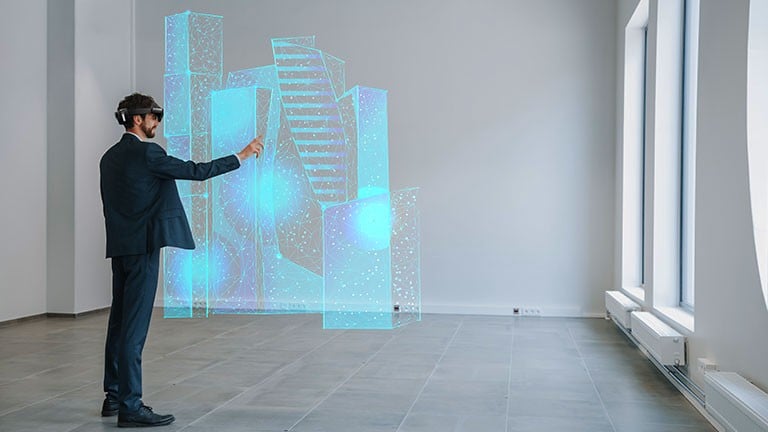 Digital Building Lifecycle is the extended digital format of the physical building lifecycle. It is the process of capturing and visualizing data as the digital truth of a building or an infrastructure. In other words, it is the continuous process of creating, exchanging, and consuming as-designed, as-fabricated, as-manufactured, as-assembled, as-built, as-maintained, and as-used data. Spatial computing makes the digital building lifecycle tangible!
Digital Building Lifecycle Process
A physical building lifecycle process begins with a feasibility study that proceeds with design and construction. It continues with maintenance and operations until the technical lifecycle ends in decommissioning and demolition. The digital building lifecycle augments the physical building lifecycle and accumulates interoperable data from physical, social, and digital environments. Full digital building lifecycle ultimately acts as the data-driven catalyst for the next physical building lifecycle that may involve TI, retrofit, renovation, or new ground-up development.
Spatial Computing
Spatial computing enables people to collaborate in the digital space that is the replica of the physical space. Incredibly, people do not need to huddle in a physical location to collaborate effectively. In addition, spatial computing enables immediate prototyping – the assets are right there in front of the team to test out. Spatial computing empowers the creation of something new.
Spatial Computing Augments the Digital Building Lifecycle
In the digital building lifecycle process, data is used to deliver the physical, social, and digital environments with higher total performances at a lower total cost. The digital building lifecycle enables designing, analyzing, and simulating the environment digitally. Insights and learnings from this process support cost-engineering and value-engineering options before physical construction operations. During building the occupancy phase, the digital building lifecycle helps the facility management team with proactive maintenance and predictive operations. The digital building lifecycle is a real-time risk management process.
Spatial computing enables collaborative project delivery –experiencing design at full-scale and performing peer design reviews on the fly while testing options real time. It helps conduct design validation and feedback reviews before any physical modeling is fabricated. It accelerates and streamlines design approvals and reduces the time of all-up design. By exposing people to the project experience early on, it eliminates unexpected design and construction changes. Spatial design repurposes project animations and 3D renderings, adding value to the visualization budget.
Accumulating the cradle-to-grave building data, spatial computing supports discovery of optimal physical, social, and digital environments. Digital building lifecycle enables continuous learning around assets, systems, processes, and end-users. These learnings are applied in future design strategies for improved performance delivery.
Using visual data to drive confidence and effective decision-making is transformational for an industry that has relied on diagrams and schematic drawings for thousands of years. Spatial computing lets people experience the project data firsthand, triggering the emotions and feelings when things are in digital format. Spatial computing helps avoid additional costs or unnecessary investments and empowers the cooperation of people, leading to improved outcomes.
Elements of the Digital Building Lifecycle
Digital building lifecycle includes all modern AECO industry elements. It empowers people with Common Data Environment (CDE) for BIM-based collaborative project delivery of design, engineering, and pre-construction. It enables digital construction using Extended Reality (AR, MR, VR), reality capture, drones, and robotics. It supports the digital supply chain, including pre-manufacturing, prefabrication, pre-assembly, and logistics. It delivers us digital twins, the digitally live combination of BIM+GIS+IoT+IoA+reality capture. And finally, it helps discover the most sustainable ways to dispatch physical environments into recyclable and reusable resources.
The construction industry often says, "time is money, and there is none to waste." Spatial computing supports the coordination of the project team, connecting the right stakeholders in cooperation and collaboration faster than ever. Spatial computing empowers people to get things done.
Digitalization is changing how the physical world is constructed. New technologies are transforming how we plan, configure, assemble, and maintain our physical, social, and digital environment. BIM is seen by most in the AECO industry as a critical step in moving to Industry 4.0. It is widely used to create, manage, and consume digital information during a digital construction project, and eventually, will be used at every stage of the digital building lifecycle. The success of BIM is built on the principle of creating collaborative digital environments for stakeholders to operate in a shared environment to process, refine, and consume digital content in a better way.
The Roles of Spatial Computing
Collaboration
Spatial computing plays a crucial role in the early phases of the digital building lifecycle and makes collaboration more flexible and sensible. A new environment is not created in a vacuum. Instead, it is built in the existing or a natural environment. Spatial computing helps you explore possibilities and choices that already exist. Employee and stakeholder engagement is essential for successful project development. Spatial computing drives employee education and builds up enthusiasm. It gives everyone access to visit the site in VR before the on-site job walk.
Architects, engineers, and contractors use BIM as the standard collaboration tool. Architects and engineers develop comprehensive 3D digital prototypes as a standard to better understand the entire project's possibilities and limitations and resolve constructability issues and problems as early as possible. Contractors use 3D BIM to generate coordinated 3D, 4D, and 5D plans in conjunction with their subcontractors' budgets and schedules.
Change Management
Spatial computing is an effective solution for practical cooperation. The role of spatial computing is significant in the extended digital construction phase. Spatial computing supports studying what the optimal courses of action are. Change management is transforming into options management, giving everyone a sneak preview of their new space.
Immersive Design and Configuration
Spatial computing will engage the end-users in the design and configuration of the physical environment, enabling the end-users to contribute and, at the same time, giving control of the project delivery to the professionals. Experiencing spatial computing in AR will quickly demonstrate what the actual space looks like before and after the tenant improvement, retrofit, or renovation.
Digital Construction
Digital construction processes and tools help construction phase stakeholders to deliver their jobs more effectively and safely. Improvements in collaboration mean that work is completed more efficiently and safely, improving productivity and ultimately leading to better profitability. Therefore, digital construction does matters to everyone involved in the project.
Operations and Maintenance
Spatial computing improves coordination and empowers people to get things done. Here, the role of spatial computing lies in the operations & maintenance phase. Spatial computing supports organizational transparency, awareness, inclusivity, and compassionate leadership. The digital transformation of the AECO industry is redefining roles as the processes, and ways of working are changing. Spatial computing is a critical part of the next-generation operations – where future space is required to adapt to the different capabilities of the employees continuously. Digital real estate operators and facility managers can become more proactive based on Internet of Actions data, explaining people's behavior and support reconfiguring space for different functions on the fly. Combining spatial computing with buildings' digital twin input can enable visualization of real-life issues in the virtual world and co-solutioning them in the real world.
Summary
Spatial computing has the most significant impact on people. In the future, we might not be dependent on deep subject matter experts in each phase of the digital building lifecycle because the information will be readily available to everyone. This will create a new workforce of digital experts that need to acquire the skills and experience in the areas they are not familiar with. However, making information available to everyone does not guarantee it will be comprehended unambiguously. Spatial computing will enhance intelligence where there are gaps in knowledge and ultimately it will enable teams to drive massive productivity gains across the digital building lifecycle.
Author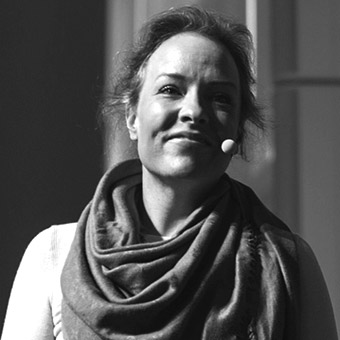 SALLA ECKHARDT
Director of Transformation Services, Microsoft